No one likes to be left behind when it comes to vacations, so why leave man's best friend at a kennel while you go on vacay? There's no need to leave your four-legged family member at a kennel during your next family reunion because the Bolivar Peninsula offers a variety of fun Crystal Beach pet-friendly activities. 
But, before we fetch the top dog-friendly activities for you, make sure to request access to our free Bolivar Peninsula Vacation Guide. It includes all of the best Crystal Beach attractions, including the best restaurants, outdoor recreation, and other attractions on the peninsula! 
Our Favorite Pet Friendly Activities in Crystal Beach, Texas
1. Make Paw Prints in the Sand at the Pet-Friendly Beaches
Take your furry companion to explore the 27 miles of beautiful seashore on Crystal Beach. The beaches are pet-friendly and we offer a great selection of vacation rentals just steps from the beach access points, the best location for those exciting walks! 
2. Dig In at Pet-Friendly Crystal Beach Restaurants
Choose from a great selection of pet-friendly restaurants on Crystal Beach with outdoor dining, a great atmosphere, and killer ocean views. Stingaree Restaurant and Bar is a fantastic place to gnaw on delicious steaks, seafood, and more. 
3. Take Your Walk to Scary Places on a Galveston Historic Ghost Tour
Go on a Galveston Historic Ghose Houses Tour to add some excitement to your daily walk. You'll learn about the eerie history of the town all while getting all of your daily steps in! 
4. Take a Family Photo at Buster's Old Time Photos
Is your dog an old soul? Bring your pup to be in your family photos when you visit Buster's Old Time Photos. The vintage photos are always a hit, and your family will get a kick out of it! 
5. Attend the Annual Crystal Beach Disc Dog Event
The whole family will be in awe at the incredible tricks they'll witness at the annual Crystal Beach Disc Dog event. Watch the pups leap, sprint, and catch at this fun event in April. 
How to Prepare for a Pet-Friendly Vacation
Make sure your pet is comfortable with car rides if you have a long road trip ahead.

 

Bring a crate that allows your pet to relax comfortably

 

Check Airline Pawlicies

 

Schedule a checkup with your vet to make sure your pet is up to date on all the necessary immunizations, certifications, and tests. Also, stock up on medications and flea and tick control.

 

Pack All Their Favorite Things. Depending on how you plan to travel and your destination, pack essentials to make the experience enjoyable and stress-free. Here are a few suggestions:

 
Pet food

 

Collapsible bow or water bottle with attached trough

 

Medications and first aid items

 

Travel documents like rabies certificate

 

Treats and dental chews

 

Your vet's contact information

 

A favorite cozy blanket, toy, and/or pillow

 
Wag Your Tail at the Best Pet-Friendly Vacation Rentals on the Bolivar Peninsula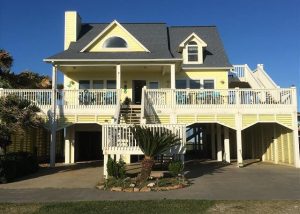 Why choose to stay in pet-friendly hotels on Crystal Beach, where your pup will be couped up in a small room when you can book a family-sized, pet-friendly vacation rental right on the beach? Swedes Real Estates offers a large selection of pet-friendly rentals with the best amenities on the peninsula, like beach access, private pools, hot tubs, gourmet kitchens, entertainment rooms, and more! 
If you're looking for pet-friendly accommodations with easy access to Crystal Beach and Galveston Island, contact us for a complete list of our pet-friendly rentals that will accommodate the entire family and your furry friend(s) at 1-409-684-3345. 
Check our availability
 and fetch your favorite vacation home before someone else does!
Disclaimer: The coronavirus pandemic is still impacting travel, and destinations around the world have different COVID-19 restrictions in place. It's important to check and adhere to local government policies as you're planning any future trips.