If there's one thing you must do when visiting Crystal Beach, Texas, it's exploring the Bolivar Peninsula beaches! Our coast offers 27 miles of clean wide beach which means you can enjoy a relaxing sunny day in peace with your closest family and friends. Plus, the beach is just steps away from our vacation rentals, making it easy to wake up each morning and head straight to paradise! 
Crystal Beach and the Bolivar Peninsula offer tons of unique adventures and attractions. Did you know you can drive your car on the beach? And, that's just one out of endless activities along the Texas Gulf Coast. Unlock our free Bolivar Peninsula Vacation Guide for access to the top restaurants, outdoor recreation, and attractions in the area. 
Things to Do on the Bolivar Peninsula Beaches
Crystal Beach
Within the 27 mile stretch of sand and sea is Crystal Beach. This beach is a fantastic family beach option. You'll find beautiful shells and shark teeth lined between the waterline and sand. And, there are tons of fun activities you and your family can enjoy on this beach. Some local favorites include boogie boarding, surf fishing, and barbecuing your big catch! If this is where you picture yourself every day of your vacation, we highly recommend you check out our beachfront rentals! There's nothing better than starting your day with an ocean view and the soothing sound of waves with your morning coffee! 
Watersports on Crystal Beach
Make it a day of adventure when you partake in thrilling watersports on Crystal Beach. You can rent jet skis, parasails, surfboards, kayaks, and more for an exciting excursion on the water! 
Fort Travis Seashore Park
Towards the bottom end of the peninsula on the western side is Fort Travis Park. Enter a piece of history when you step foot onto the fort that protected Galveston Harbor in 1836. Explore the 60-acre military site with bunkers by taking a tour of the fort or enjoy a peaceful lunch with a picnic by the seashore. 
Nearby Attraction: Point Bolivar Lighthouse
For more history, you have to see the iconic Bolivar Lighthouse. The federal government built the lighthouse in 1852 and rebuilt it after the Civil War. The building survived multiple hurricanes and eventually retired in 1933. Grab your camera and take a walk around this scenic structure for a relaxing stroll by the marsh. 
Unwind at the Best Crystal Beach Vacation Rental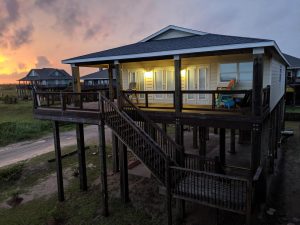 Book a Swedes Real Estate vacation rental for the ultimate Gulf Coast getaway. Choose from more than 130 of the best Bolivar Peninsula vacation rentals, with many of them right on the water with breathtaking oceanfront views. You'll have access to incredible amenities, and your family will make memories to last a lifetime. Check our availability, and start planning the vacation of your dreams today!