Bolivar Peninsula in Texas is a popular destination for those looking for sun, sand, and water activities. There are several Crystal Beach water parks and water slides located on Bolivar Peninsula that offer a variety of water-based entertainment for visitors of all ages. If you are up for a day trip, there is a large Galveston water park that your family will love. 
If you would like to start building an epic vacation itinerary, get our destination guide for FREE. It provides great information that will make your vacation planning as easy as one, two, three. 
Keep reading to discover three water parks that are perfect for family-friendly fun.
Crystal Beach Water Park Option 1:
Harold's Funtown Waterpark
995 Noble Carl
Bolivar Peninsula, TX
This water park features a variety of attractions, including a lazy river, several water slides, and concession stand. Harold's Funtown Waterpark also offers an area specifically designed for younger children, making it a great destination for families with kids of all ages. With lounge chairs for laying in the sun, mom and dad can kick back and relax while the older kids splish and splash. Spend a few hours or the entire day at this fun water park on Bolivar Peninsula. This attraction is located just a few minutes drive from most of Swedes Real Estate vacation rentals.
Crystal Beach Water Park Option 2: Fun Time Water Slide
2061 Highway 87
Port Bolivar, TX
Everyone in your party is going to love the "hill of thrills" at Fun Time Water Slide in Crystal Beach. This local water park features several fun water slides and a picnic area with shade. They also offer party packages for birthdays, family reunions, or corporate events. You can purchase a daily pass or fun by the hour. This is a great place to enjoy a day off the beach while still taking advantage of our amazing Texas gulf weather. Located in the heart of Bolivar Peninsula, this water park is a convenient attraction for anyone vacationing in the area.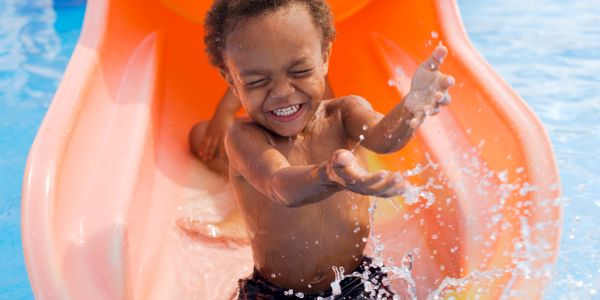 Galveston Water Park: Schlitterbahn Waterpark
2026 Lockheed Road
Galveston, TX
One of the most popular water parks near Bolivar Peninsula is Schlitterbahn Waterpark in Galveston. This massive water park features over 35 attractions, including a lazy river, wave pool, and a variety of water slides. One of the standout features of Schlitterbahn is the innovative Transportainment system, which combines water rides with a lazy river experience, allowing visitors to relax while they move through the park.
Overall, Bolivar Peninsula and the surrounding areas offer a variety of water parks and water-based activities for visitors to enjoy. Whether you're looking for an adrenaline-packed experience or a relaxed day at a local Crystal Beach water park, there's something for everyone in our beautiful coastal region. 
Even though the weather is amazing all year round on the Texas coast, our water parks operate on a seasonal basis. Be sure to check the links provided above for seasonal open dates. 
If you are ready to grab a bite to eat after a day at the water park, check out our top Crystal Beach restaurant recommendations. 
Our Crystal Beach vacation rentals at Swedes Real Estate offer top-notch comfort and amenities, including a fantastic location near events and on the beach, private pools, hot tubs, wet bars, entertainment rooms, and more. Check our availability and start planning your Gulf Coast vacation today! Begin your rental search by type here.